WEDDING INVESTMENT-
The cake will be eaten, tuxes back in the shop, the guests all go home, and really the only thing you have to look back on are the photographs. Initially using a flat rate, I customize my packages to be able to work with brides with all budgets! Rustically Romantic, engagement packages start at $300, and elopement pricing starts at $2000. So…"you can have your cake and eat it too"!
WHAT IF I'M YOUR FIRST CHOICE, BUT…
YOUR BUDGET CAN'T HAVE ME!


We have options, so do not stress!




Consider a weekday, it's cheaper.




If your parents are helping, have them contribute with some, and you pick up the difference.




Not widely advertised, ask for a payment plan. We can arrange something that works so that you are paid in full before the wedding, and have no stress.




Best bet, review your budget and borrow from another area, remembering your photographer is with you the entire day, and your wedding photographs are a lifetime investment
LET'S KEEP IT SIMPLE…
FLAT RATE PRICING
ELOPEMENTS (4 HOURS, WEEKDAY, 500+ IMAGES) $2000
SATURDAY WEDDING (8+ HRS OF COVERAGE, 1200+ IMAGES) $3000
SUNDAY THRU FRIDAY (8+ HRS OF COVERAGE, 1200+ IMAGES) $2850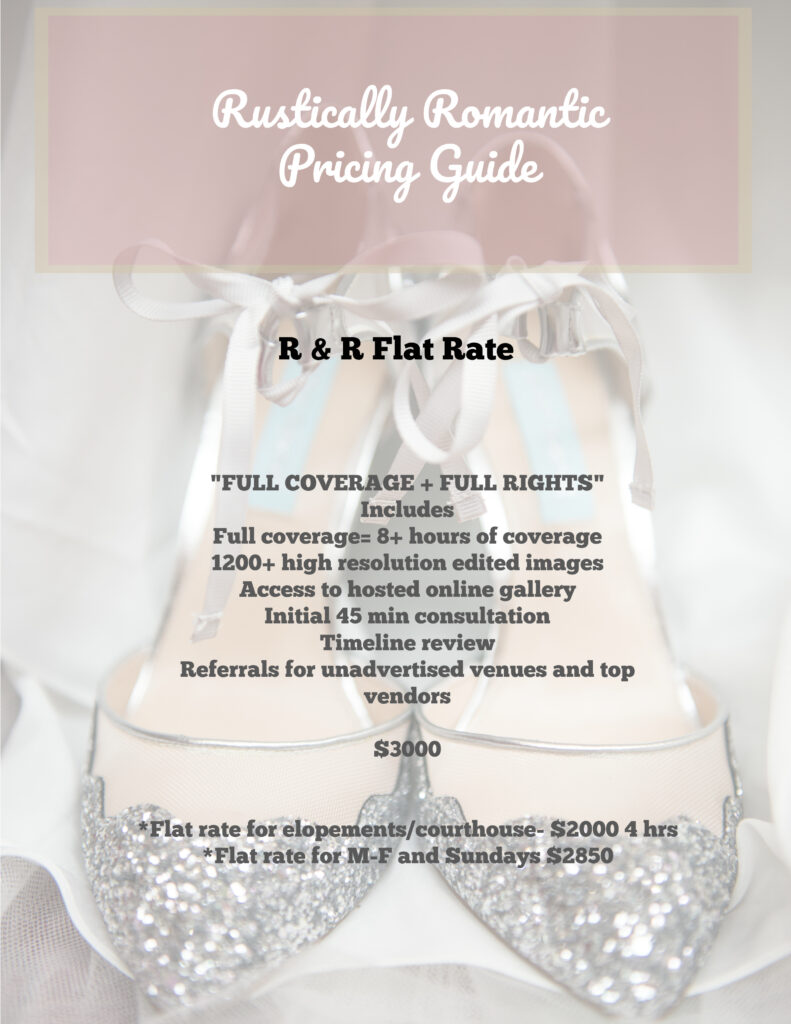 Listed above is a flat rate base approach….this ensures you have the photographer you want, a full day coverage, and loads of images to choose from……but, it doesn't have to stop there. Some brides want more than 8 hours captured, or some are total picture people and want their whole new home decorated in photos…so they also choose an engagement shoot, a boudoir shoot, and an album. Have fun picking the package with exactly what you want…….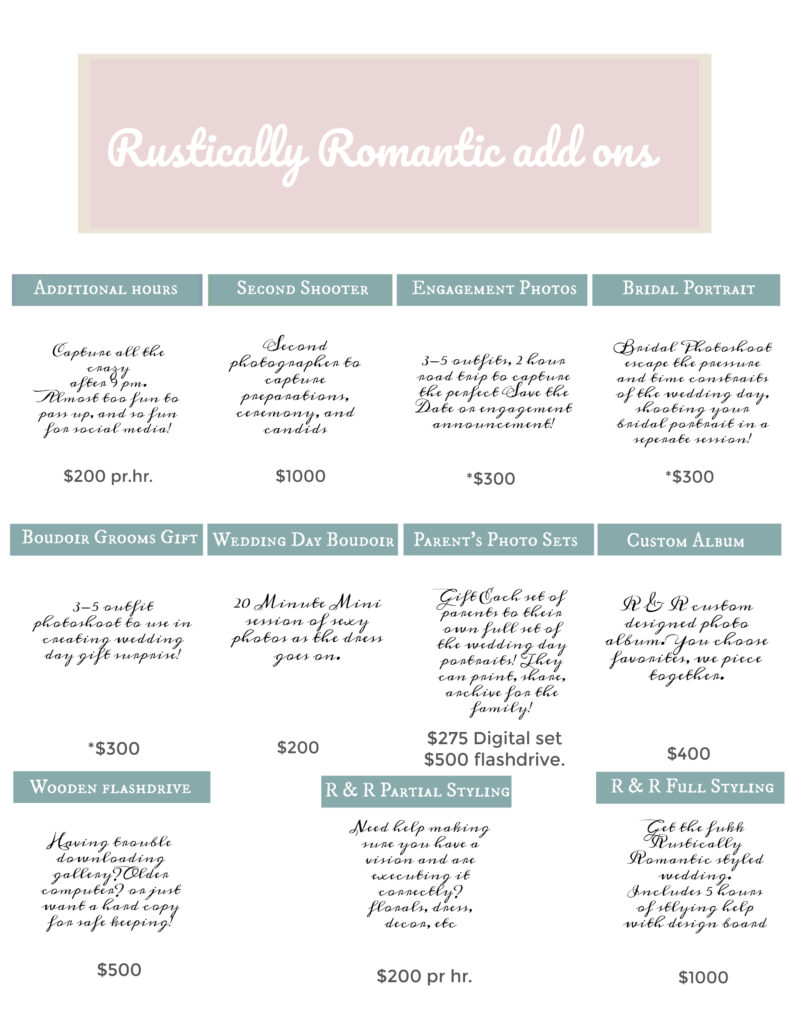 DISCOUNTS-
-$ Military discount, $200 off wedding and $100 off engagement session
-$ Any additional discounts offered i.e. weekday wedding, courthouse coverage drawing winner, etc
Deposit- A $300 retainer is required to secure the date. Cash is preferred, but if you are writing a check, you must have sufficient funds to immediately cover check. This retainer is non-refundable or transferable for any reason.
TRAVEL-+ Hotel lodging the night before + travel fee is required for all weddings that require more than a 2 hr. drive from my home base.( This adds at least 4 hours onto a full wedding day, so I recently got strict).
BALANCE-Payment of the balance is due on the date of the wedding. This does not include gratuity.
Checks- If you are writing a check please add $15, since check cashing will be down through your bank to verify funds, thus funds need to be immediately available. Postdated checks are not allowed. Do not ask me to postpone cashing checks for engagements or weddings. Cancelled checks will result in legal action for balance in full plus all costs incurred associated with legal action required. Returned checks/Insufficient funds will be charged an additional $250 every 7 days until balance is paid in full.